Went for mount climbing yesterday with Brandon and a 60+ yrs old uncle. This small hill located at Cheras 9th miles near Taman Quepacs. Hill name unknown, people around there used to climb at this bushes jungle like their regular exercise (salute man!) the gradiant of the hill road at point 3 and 4 can go up to 85 degrees...wow...first time climbing in my life man!
A jungle with trees and it only have single way for you to walk. Along the way there are many gear print until it like already forming steps there, as because it was too many people stepping on the same point especially those way which are really hard to go up. The path to the hill is very steep. The soil some are soft and when I stepped on it was slippery. There are 6 "Beat It" point. Point 3 have a small river, the water is fromthe hill top, quite clear and cooling. We only went up till the 5th point then go downhill. Along the way up, I need help from the small tree trunk in order to support myself to go upwards...at Point 1 and 2 is still ok, but at Point 3 and 4 is the most hard part for me..need to stop after few climb to let myself breath..wow not easy lehh...I even told Brandon this is my first and last time..hahaha..
The whole trakking takes about 2 hours. Going down the hill is quite fast as it is much more relax then going up hill...need to look carefully when going down, some small tree trunk have sharp torn, can't simply hold it.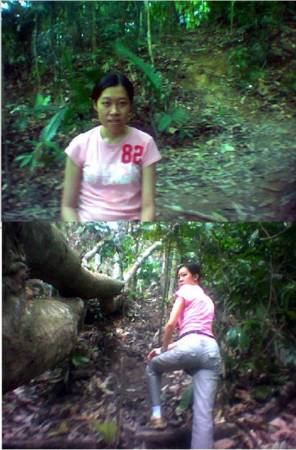 (i) Sitting there to breath
(ii) Going upward