Morning went to church for sunday worship.
Watch movie at GSC Mid Valley with Brandon. The ticket was complimentary one.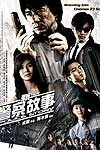 Movie starring by Jackie Chan, Nicholas Tse, Daniel Wu, Charlene Choi and Charlie Young. A very nice story which have touching love and sad life experience.
After movie Brandon shopping for some clothes for his favourite brand.
Later at night went to Esther's baby girl Jia Ern full moon party dinner.