Some points on his physical growth at 13th months. Basically not much changes:-
Not yet walk. Army crawling with body stick on the floor.

Able hold to stand from any surface that he can reach out.
Talk in his own language with lots of hand action comes with it.
When cartoon or drama ending roll out with all names of casting and producer, he will show me his hand action of finish-no more.
When he plays in the playpen half way heard inter-change for TV ads time he will quickly get up and watch out for his favourite Enfagrow ad - the one with 2 kids talk to each other for what he learn when ones absent or the Huggies pant ad with 2 little cuties dancing. Mostly ad he will watch till it finish without turn his eye away.
Point here and there for things he saw.
Press to switch on and off on TV and wall switches.

Change milk powder to Dutch Lady Friso Gold 3. 6oz milk x3 and porridge x2.
Eruption for Canine and first molar teeth for up and down. Not found him on teething difficulty yet.

He will shout, kick and or push things away if he get angry.
When ask to kiss on soft toy or pillow, his face will dearly touch on it. But not to me yet.

When he see milk bottle coming will lie down and wait in the bed without need to ask.
Hand action still remain that few. See how he did when I sing "Twinkle-twinkle Little Star" (refer to video clip)

He demand more carry now and cry for it especially during bedtime. He supposed to be very tired since he is taking his 1 round day nap (sometimes). When I put him to bed at the right time he refused to sleep and cry for carry. Many round of carry in and out and cry until he satisfied and tired of it then only he'll be quiet back in bed. Sometime we ignore his crying will work and he saw us sleep then he sleep. Sometime, he not fail to cry for long until we answer him.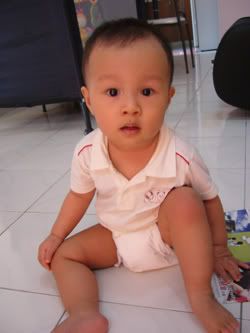 Sit properly is show time.
Come, lets clap together, mummy sing to me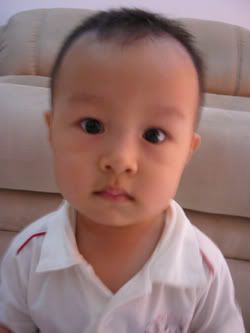 Why you look so serious, not clap together with me :P
Am I make you smile?
Tired already la..sleep first