Have not been writing own post for days, mainly because busy planning Terry's coming 1st birthday and makng paid post. Last Saturday night, not having any sleep. I blog till like 1am, then went to bed. Haven't really went into dreamland, at 2.30am rain heavily outside, woke up close doors and windows...back to bed, couldn't sleep also, then 3am wake up call cab for hubby went to KL Sentral to take bus to LCCT. He is going off for backpack trip 6 days to Indonesia (Solo, Borobudor) during these long holidays. Since couldn't sleep after so many wake, I make paid post while waiting for his call to make sure that he got into the cab and reach KL Sentral. Hub called and everything fine. Finally, only go to bed at very early in the morning 6.30am.
This is the first time ever after married I staying back alone without hubby. Before he leave, we have make our decision to have a party for Terry's 1st birthday, so during these holidays I can roll on the works that have plan in mind. We have rented the function hall at our apartment here and plan to invite around 80-90 guests, Snoopy birthday cake, door gift for kids, table chairs rental, real scrapbook for Terry first 12 months, home cook food by my mum and a aunty from my church instead of having caterer, after calculate here and there. During these 5 days long holidays I really did a lot of things. Will share it with you day by day.
Saturday
morning, after hubby leave wake up at 8.30am, tidy up the house and things, wait for my mum back from work then went to KLCC to meet up Amy, Amilia and others and shop too. Imagine really so long not met up with them. Amilia just go the chance to pass me her wedding gift and also together a presie for Terry birthday. Can see how long I'm not meeting up friends, counted a lot of them actually...those I met since during early pregnant have not meet till now. Since I reach there late, I didn't eat with them, just sit and chit-chat for a while then go shop. Didn't manage to get anything from Isetan, no sales now hard to buy things. When going back, saw that the Putra LRT station can pass through to Avenue K. Went to a gift shop there bought some door gift items. This mall opposite KLCC, extremely quiet and very very few shops open. Working people more than shopper. Saw the banner Toys 'R' Us got sales, went up to 4th floor and have a look, no buy. Took LRT back, reach home at 9ish, my mum stay over night with me.
Sunday
, pack things back to my mum's place stay for the rest of 3 days, since alone and hardly cook plus my mum can look after Terry whenever I go shop. A lot to bring, stroller, playpen, bags, slow cooker pot and all his stuff...a car boot full. As usual, went to church. Noon time, after his feeding went to shop alone at 1 Utama. Able to hunt something from Jusco since got sales for last day. Bought 4 bibs, all got sales, some home item and door gift bag material. I plan to hand made the bag, so bought back the Oganza cloth and bear for the bag decoration from Pretty Bow and string material from Old Town, PJ. These holiday part of it also busy sewing the bag and putting the string. I'm making 30 pcs of it.
Door gift bag
Part of the door gift item. Other items bought from eBay not yet received, finger cross it won't lost in shipping.
Monday
, my mum got off day, coz the kindergarten she work need to fully sterilize on toys and furniture. Morning, we went to OUG have late breakfast. Afternoon, went to EPF at PJ with mum and dad to submit their EPF norminees. My dad came across someone pass away lately that the family member couldn't withdraw the large amount of fund as the account do not have any nominees. Now, the family need submit a lot of document and need longer waiting time in order to get the fund. Since the case, my dad went to check his particular a while ago, found that he (or employer) did not submit the nominees name and also no address, no wonder not receive any statements before for so many years. So, went to get both things settle. A lot of people since the working days is between holiday, we waited for 1 hour plus to get our turns. Back home start cutting the cloth and sew the door gift bags.
Tuesday
morning, wake up a bit early, went to Petaling Street to have famous beef noodle. It is a small shop opposite S&M shopping mall. Chinese name (新)九如牛肉丸面. English name don't know la..open from 10.30am-3pm. Too hungry forget to snap picture on how nice the noodle is, so ngam, sss1979 and Sasha tag me on this, if not I can do the tag now. The beef meat slice thin and just cook when it serve, very soft. The minced beef and beefball also nice. Since the shop is small, people eat and go very fast, also they serve fast too. No baby chair for Terry so my mum carry him. I'm not able to eat if I carry him. We parked our car opposite Central Market, then walk all the way there, take turns carry Terry, luckily the sun not so hot yet. After 20 mins, we finish then walk down to Popular book shop to search for the door gift items. Couldn't find any. Then, we walk to the shop row behind the Central Market. My dad recommend there got sell cheap men's bottom. My mum show the way, coz my brother want to buy some. Also, take turn carry the small boy until everyone get sweat..under the hot sun. Walk back to the car park and there we have digested the nice beef noodle that we just eat. Wanted to eat other food at Chong Wa back lane, but everyone too tired and very hot. On the way home, drop by my friend's boutique shop Amour at Mega Mendung, OUG. Able to bought a set of new wear for myself. Went home, eat sleep and continue finish off the sewing part of the door gift bag. Actually my mum is doing the sewing, I did the rest. At night, we went to IOI Mall shop for Terry birthday gift from my mum. Got him 2 pair of shoe and a set of new cloth.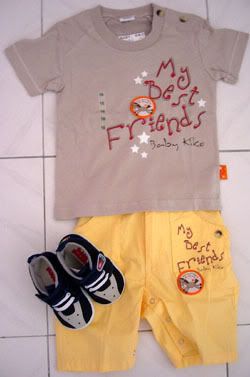 At night, after everybody sleep, continue to made the door gift bag and put the string. Terry just couldn't sleep tight, don't know why. After few rounds hugging, he finally sleep tight after 2.30am.
Wednesday
, not go anywhere in the morning. After breakfast, went shop again at Mid Valley. Shop alone, walking up and down. Bought some gift item, shop for my tops, and for Terry too. A lot of people too. Have my late lunch there, met Yan and her bf, so we sit together and eat. Back home around evening time, after dinner, pack things again, fill up the car boot then back home. Clear up and tidy everything, check mail and sleep at 1am.
Here are the things I hunt back,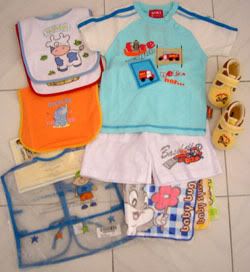 All for Terry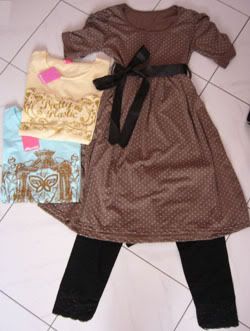 All for myself
Thats my fruitful shopping holiday.