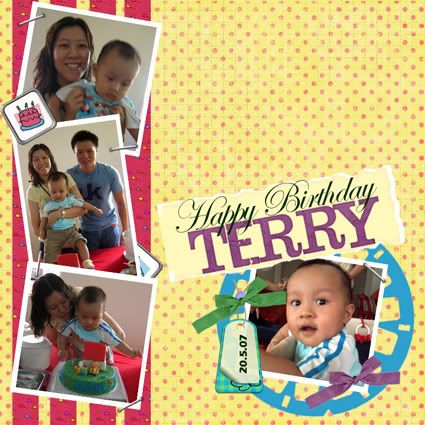 Thanks
Sasha
for this birthday scrapbook.
* Photo updated *
A lot of pressie for Terry, mainly is toy and he enjoy playing with all kids. The whole morning he is not taking any nap until the party ends at 3.30pm. Eventhough he is tired, but he is not cranky there. I even bring down the playpen for him to sleep, but end up he not use for it. Cake cutting at around 2pm, everyone sing 'Happy Birthday' to Terry and he happy to see kids all stand in front of him and he began to clap his hand! The
Snoopy cake
is a orange butter cake. Taste nice! everything is clear up, only reserve the Snoopy house (cake) for ourself.
Everything ends at 4pm, before clearing up the hall, bring the birthday boy back to his sweet cot and he immediatedly doze off less than 10 minutes and slept for 3 hours. Thanks for my family in helping for the party. To the guest, thanks for sparing your time attended the party, your gifts and wishes.