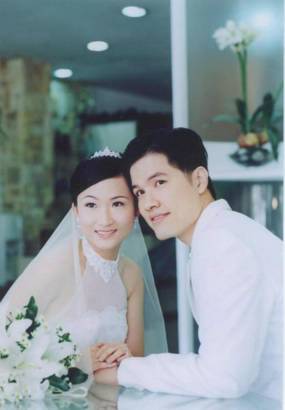 Last Saturday (4th June) went to Penang to attend my ex-colleagues's wedding…Due to Alice (my ex-supervisor) fall sick early in the morning, so we go a bit late, we manage to start our journey at 11am...All the way at the highway was going very slow and some part even traffic jam…aft 6 ½ hours in the car finally reach Penang at 5.30pm, the City Bayview Hotel where the dinner held and also the place we stay. Dinner at 7pm. Thought the wedding dinner culture is different from KL, who knows also the same at KL start at 8.30pm…Foods some ok some average…The dinner to me is like a gathering with old colleagues and some colleagues who left the company before me…we just chit-chat n exchange our recent life…at the dinner karaoke section was prepared for us and also some songs from the karaoke MC…we do snap some photo with the bride..she was so busy..got to change 3 costume…Penang kia all are in Hokkien ..poor me…I dunno Hokkien…so always hav to ask May what they / MC saying…hahaha……everythings end at 11am…by the time very sleep and tired also…actually got intention to go to the pub behind the hotel to have some drinks…but seems like everyone wan to rest early for the next day..so everybody rest early…I have a good slept there, but my poor friend can't really sleep well…

The next day, too nice to sleep until we can't enjoy much on the breakfast buffet …we took a lil bit then hav to rush to bride's house…Bridegroom reach at 9.30am and he was so excited to catch her bride…until he and those heng dai can't really eat the light refreshment for them…so lets see what the ji mui prepared for them….(I'm one small part of them..no leading in negotiating) Got a rule here, before starting must be "No Hokkien" very funny, once they speak hokkien have to eat 1 slide of plain bread, mainly cos those ji mui dunno hokkien…

1. Heng dai have to finish a loaf of bread….so they distribute to each other…the bread is nothing…plain one, but they only can finish it without drinking water.
2. Sing song, sing it loud until the bride satisfied it…poor bridegroom dunno how to sing song, but he also very co-operate to sing it..with a heng dai leading beside him…
3. Eat spring roll without using hand, thinks that easy, the heng dai very shy to do it…but it is very fun..we ji mui laugh n laugh. Both heng dai start bitting one end and eat toward going each other and kiss in the center part…very funny also..
4. Then, go upstair. Bridegroom hav to used his lip to kiss a love shape on a piece of paper, with his lip apply lipstick to it…
5. Later, hav to find where is the brides, there was 3 rooms up there….we won't lead him to the correct room, he have to select the room by slotting in the love lips down the door, to ask the bride whether she like it or not…so I'm the one to push back the paper to let him know, she dun like it…without open the door…so he went to other room to check…he also dunno whether he got the correct room until I came out from the "no bride room" to ask him, where u go, ur wife is here!!…then he was so excited to came over to check, who knows that was his flower gal…haha…kena fool…
6. Q & A time, then again sing a song "Tell Laura (Phaik Li) I love her"

That's how the ji mui let him in….tang..tang..tang..tang..another friend is married… Penang wedding culture, they got 2 wedding car, guy 1 car n girl 1 car, with their own ppl…when they are leaving to bridegroom's house..
After she go, around 11am we travel came back to KL. On the way back quite smooth, no jam nor slow down, we even go in to Ipoh old street to taste the Ipoh Sar Hor Fun, Ipoh tau geh, rojak and popiah as our lunch. Safety reach KL at 17:20.