Every year there will be twice VBS (Vocational Bible School) happening in our church falls on school holiday in March and December. This holiday program specially for kid's age between 4 to 12 years old to let them learn about God through stories.
This year, Terry is eligible to join. Since we got no other plan during the 1 week school holiday ago, I have registered him for this 3 days program falls on 18th-20th March. Since he familiar with the church and some other familiar faces, I think he should be ok to mix in. At the same time, I will be there all time to help out with the rest.
Days before the VBS, I told him about it and he was actually so excited and very looking forward to it. Knowing that he missed school very much, every morning he still tells me, "Mummy, go to school." So this VBS will be a great time to fill his longing to go to school rather than stay at home.
The VBS theme - 诚实神最爱 (Honest, God Favorite). Activities included singing, games, story telling and art & craft. The school hours is from 9am-5pm and the last day, 9am till 12.30pm, half day only then at night back for graduation ceremony. There were about 60+ kids joining. A small fee of RM30 charge for this program inclusive of 1 lunch and 1 snack.
Day 1 (18/3)
He was quite ok to join in the games, singing and art time. When comes to story time with puppets, he shows not much interest to it, it could be too difficult for his age to understand the story and he started to move around or stick with me. Others that he not able to follow are like team slogan and mnemonic chant to recite.

Game time - Passing rubber band with straw.
Circle game, with his best friend Jun Ping (in green) and Eunice.
Art time
Also, when toilet time and lunch time, he needs me a lot. He couldn't eat by himself and I got to feed him. He shows his tireness after lunch, awhile later have his milk, try to coax him to nap in a room but he don't want.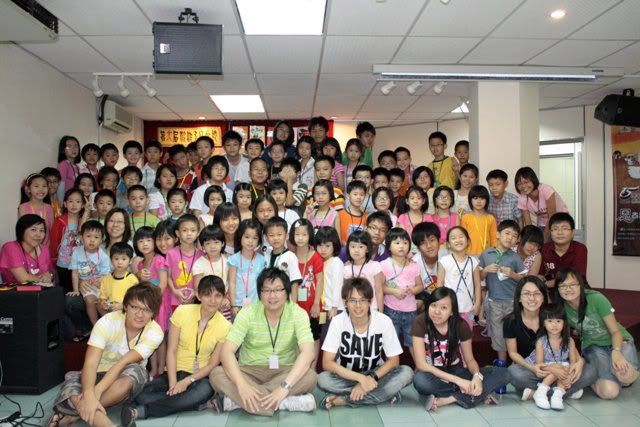 Group photo taken
There will be a short presentation time on stage at the graduation night, his group (age 4-7) will presenting a song - Honest Children. He knows how to sing but refused to join in to sing together and practise. So, I pull him off from it.
The song like this, rhythm of the song "London Bridge".
(1) Honest children *
tell the truth
,
tell the truth
,
tell the truth
Honest children
tell the truth
,
I am honest.
* verse (2)
Do not steal
* verse (3)
Do not cheat
He able to stay put till 5pm. Once we got into car, he knock off in 5 mins on the way back to my parent's home for dinner. Back home, I got to carry this tired boy down and he continue to sleep for another 2 hours and woke up for late dinner. He obviously still too tired and not much appetite to eat. When ask if he likes it and want to go again, he nodded. We slept right after back home at 10pm+.
Day 2 (19/3)
He behave so differently, keep looking for me and not join most of the activities. He only able to stay good during art time with me around.
The flower pot is simply so beautiful when put it together. We plan to stay half day only as he couldn't stay on for too long hour without a quality nap. After lunch at church, we back home at 2pm. He also knock off immediately before reach home. After some snack and milk, he continue his nap at 5pm.
Basically, VBS to him is only enjoy the art and game time.
Day 3 (20/3)
For not having him to stick with me during the activities time, he agreed that I'm away the church while he join the rest. I'm not following him into the hall, just stay outside in a room and watch him from the window. Once he reached he dump his bag aside and ran to queue up with his group. He can follow on the games and singing time. There was no story and art time, it was mainly a free time on last day. They also practise presentation and prepare for the night. Afternoon, back to my parent's home to rest and dinner.
At night, back to church for a simply yet fun graduation night.
Presentation time, minus Terry who refused to join
He got lots of fun time running with his good friend and receive his first cert, LOL! A light refreshment is serve after the ceremony.
Thats about his first time of joining VBS. In future, he will be all indepandant there by himself. There are kids teasing him that, mommy cannot follow one..haha..I'm sure he can learn more by then and able to join in for others.