(This blog I have draft it since aft the trip and it should b post last year, but due to many pic need to upload here, so delay till today… )
Beijing trip was simply sweet n unforgettable. So share with you here more about every places we have visited, and what are the little things happen along the trip, so that next time u go u can have an outline as reference :)
8 days 7 nights - Beijing/ Tianjin/ Chengde

(28-May-05 to 5-Jul-05)
27/6 – Assemble at 10.30pm – counter C15, boarding time 23:45, flight MH370 time 00:30
DAY 1 – 28/6/05
Touch down at the Beijing Capital International Airport at 06:35. We were stay in Hotel JingMinShi. Due to early reach, Beijing local tour guide let us check in hotel and take rest before we go for our program of the day.
Summer Palace – visit for the whole day. This is the biggest royal garden in China. It forms by Longevity hill and Kun Ming lake.
LiuLiChang Street – this is a cultural street, where u can find many Chinese paint art, brushes, stone craving name stamp and other cultural item.
DAY 2 – 29/6/05
In these 8 days, every morning 6.30am morning call, 7am break fast, and 7.30am go out.
Pearl factory - they show us the complete shell with pearl inside and explain to us how to get a good pearl. Proceed to show us their showroom which they sells pearl necklace, bracelets, and other accessories. Pearl face cream and also pearl powder for consume also available there. Here can bargain for low price.
Temple of Heaven – The garden outside was occupied by plenty of retired old folk/ housewives, because there was many tree and breeze. They gather there to sing, play taichi, cha-cha, jazz dance and also playing a kind of ball game called LiuLiQiu (
pic top left
). Temple of Heaven is the place where the Ming & Qing Emperors went to worship Heaven and pray for good harvest.
After lunch, we continue to visit ShenShaHai and its new Bar Street. We have an extraordinary travel style, with trishaw ride along the old Beijing Street. This place full of those old residence, which was stay by Emperor of Qing & Ming. All were covered by brick wall. Not being renovated, those wall and doors, still stay the same since last decade. We not going in to look at it just pass by. End of that, was the Bar Street, pubs only active at night, here can find lots of Mat Salleh.
JingShan Hill – went on top of a small temple can see the whole view of Forbidden City. Cross over the underground subway, there we reach the entrance of Forbidden City or Palace Museum.
Forbidden City or Palace Museum – This is the place where the emperor stays, attended affair of the state and also gather his officer. Exit from the Forbidden City was to TianAnMen Square. Very very big, size like a few of football field. We walked cross the square; there was the Republics Memorial and China Millennium Memorial.
At night after dinner in JingDu Hotel, we went to WangFuJing night market and a shopping complex there. Tour guide advised not to buy those hawkers stall food, as it was not clean. Tong-An shopping complex, there hav a departmental store and some shop lots, this place buy things no need to bargain, all fix price. Out of the shopping complex there are also some shop fashion stall and accessories stall.
DAY 3 – 30/6/05
Jade Palace – This is also another tourist oriented place. A person in charge there lead us tour around the jade and agaté showroom and show us the jade craving work. End of the visit, was the place where u can buy jade. No bargaining here, all jade are fix price.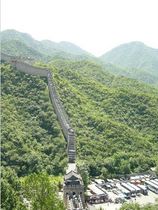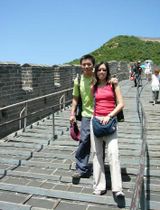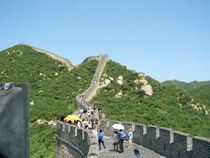 Great Wall – This was the main point of going to China. Great Wall, reputed as wonder in the world architectural history. There always a saying, "Visit Great Wall be a True Man". The part of Great Wall we going was called Badaling. Step on the world wonders, the feel was very2 great and very impress to see the Great Wall. Many ppl in the morning, many uneven steps and steep stairs, you need go slow and help by pull the holder all the way up, try not to look up further when u go up or dun stay and look down when u go down, coz u will fear of height. When u climb always remember dun block the way. Took many pics there, and also buying from those photos taking salesperson. Those were nicely laminated which done like a certificate. We only have 1 ½ hours there, so we can't go really far, how far u go then that's how you come down using the same way, there was no way coming down from another end.
Lunch was at the restaurant next to the jade just now. Aft lunch we went to the Crystal showroom next to it. These 3 places all are next to each other (Jade, restaurant, crystal), I called it tourist oriented.
Crystal Palace – another kind of nature stone, as usual a person frm there explain to us and bring us around, a performance demonstrate to us on how to differentiate a true crystal, clarity of a crystal and what are the power of crystal - pink for love, yellow for money..etc.. end of it, he bring us to their sales showroom. Many shining and fine work of crystal accessories, some really done like a piece of diamond. Price quite ok. No bargain also.
Ming Tomb – here was the 13 imperial tombs of Ming Dynasty. Very big garden also. Stone made big joystick pot and candle stand, tall and bigger than a human. Here believe that the died body was not there anymore; it was being dig off during war time from underground. What we saw now was the mock-up, which exactly the same like last time. Upon going down to underground tomb, we need scan to make sure we are not bring in any harmful equipment. Walked about fifth floor downward. Feel cold ~~~ phew! High humidity. Wall and floor are wet. The brick, which build the roof of this underground, are like marble stone. I was think that if were only few ppl there walking, the feel u will like ….you know la..hahah…since now this is a tourist spot so there was many ppl too. Inside store those imperial things they used when they are living. Some way are block and wet, too wet not allow ppl to walk in. Of coz since it was block, it was very dark and hav some kind of smell coming out. In China, even the ground heat is high during daytime but the soil temperature was cold and humidity is very high. Everything inside was made with stone, many stone doors framed up. Walking up to go out of the underground was the tomb block located. Very tall stone block.
BouShuTang – is a Chinese herbal medicine cream manafacturer, we reached their showroom. A doctor there introduced us this wonder cream and some other products. This cream named "Bao Fu Ling" was good at burn injured and it was been used in hospital now. Can't deny that this cream was very good, coz I used it before. Since he wan to prove that the cream works, he show us by burning a steel stick and he hold on it..ouch…look at it also pain.., then he spread the cream over his hand . It was real hand flesh show, his hand not wearing another things to protect. Per bottle RMB 230 for small one, big one I forgot how much. Of coz here fix price stall. Upon end of the show he recommend us to visit their doctor if got any health problem, as they have some other kind of herbal food for body. End of the day no one visiting them, aft the show we go off.
Kung Fu show at Red Theater – This was international rated. Show title "Chun Yi The Legend of Kungfu". It was a stage performance, which brings out a story line. Very great show again. All botak-botak guy/ monk.
Chang-An Street – we passed by this well-known street..and look at the night view of this street with all the building lighted up. You can find all the country major financial institutes, big companies and some 5 star hotel all located here. Also, we passed by the TianAnMen.
DAY 4 – 1/7/05
Bell Museum – the temple got its name from the huge bell, cast in the reign Ming emperor Yongle. Many many bells, the biggest bell was as height as the temple and the bell body got many small small word craves on it. It only knock 1 time throughout the year. It knock a day before CNY by follow Chinese calendar. Once it knock, it knock knock 108 times, the bell echo was travel few miles away. Knocking bell meaning to cast away things not good and bring wealth…etc..Again show time. A Sifu there in the temple continue explain to us what bell echo good to us. Aft that he used his extra ordinary power by covering his eye by asking the audience to write some number on the board and he can read out the number we write correctly. Aft that was selling time, who wants to bring back the good bell, he will mumble to the bell like gaining power on it then sell it to u. Aft that a person in charge there show us their water art gallery, here u can buy Chinese paint art.
Beijing Zoo – we came here to see the country precious animal – Panda. We saw 4 of them, very cute. We bought Panda shirt and 20K gold panda coin for remembrance.
ChaoWaiMen – A shopping centre, here u buy things u need to bargain up to 70%. If u wan to buy then only u ask the price, they won't stick their price there. A few times I asked the price, just to know what their rate roughly, then they'll keep on asking u many question, which was very disturbing. So once u dun wan immediately u have to leave the shop fast to avoid they haunt u. First round visit not bought anythings. Here sells a lot of imitation product which is 80% real and good quality, far better than out Petaling St. one. Each floor are separated which have fashion floor, shoes, accessories and others.
YaXiu Street Shopping Area – this is a trade fashion mall. Like our Sg. Wang here, but their shop lots is much more smaller. Buying things here need to bargain too. For clothes selling at China everywhere they don't hav fitting room unlike if u go departmental store or shopping complex. Saw many bargain scene, how foreigner fight for good price. Well, aft all it was tired to talk so much bargaining with them, that's why I not buy many. One item can have many price level, depends on how low u can go, and how low they can giv u, also u need to waste many effort and time to talk and talk. Even their local ppl buying things there also need to bargain, but I think local and local they won't open high price for u to bargain. Brandon bought a racing shirt there, first price given was RMB380, we directly tell them what is our price, we ask for RMB80, they not allow, so I let her to go low her price, she giv 250 then 200 we shake our head and plus talk and talk. Aft that she go low again 180, 150, 120 and finally she said the lowest can giv was RMB100. So at last we deal it. We bought it at RMB100, which we think that's still reasonable. The best u can bargain when the sale person chase aft u go then u even can get lower. So u said tiring or not for buying 1 thing.
Confucious Temple – This great ppl was being praise by Yuan, Ming and Qing emperor.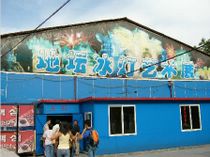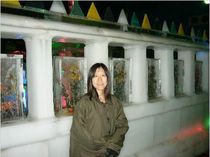 Ice light craving – whereby those ice-craft they put light inside. Need to wear thick jacket to go in. Very big ice craving model and some have color on it. The ice craving model we found was TianAnMen, 12 Zodiacs, Castle, Snow White and 7 Dwarfs, dragon, Buddha statue..etc…
Acrobatics Show – at a Theater hall. Show by young kids and some teens. That night the crowd is less only our group trip ppl. Even ppl less watching it, but they did it very seriously. Great show too, this theater hall was newly open.
DAY 5 – 2/7/05
ZhengYangMen – in FengShui here is the place of dragon head which been say is a good fengshui place for leading the Beijing city. Now this place have been set as a place of introduce and selling "PiXiu". This is a creature, which China ppl very believe it. It is a creature with Dragon head, cow horn, lion body, horse feet. It only takes all in but not out. That's why it treat as a Fengshui item, it can correct fengshui and bring wealth. Everywhere in Beijing, especially the financial building entrance, government dept entrance, Emperor place all u can see this. Huge one, one at left and one at right. The person incharge explain this "PiXiu" thing said our Genting Highland have one. All in no out…The person also explain to us not whoever also can own a big one and put for fengshui, it depends that whether ur wealth match with it. If not u'll bring trouble. For small one can giv u peace…of coz this thing is sell there, from big to tiny. He also let us touch on the small "PiXiu", when u touch also got technique, not simply touch. He said touch from the ear down to beard then go to body and back then grab it and out it in ur pocket. I dunno how much this thing can help, I didn't touch it. Simply because I dun believe at all.
Underground City – was dig by the people who used to hide themselves. Inside it was cold, wet and again humidity is very high, it is higher than Underground at Ming Tomb. This was being build under MaoTzeTong rules. This is a very big underground city which contain of hospital, library, cinema, food and weapon storeroom..etc…since it is so big inside the person in-charge who lead us in, keep on remind us that him closely, coz it is very easy to get lost inside and he will not able to find u. Beside having all those facilities, underground there also build way to go Tianjin City, Great Wall, Forbidden City…etc, but all need to walk there, not travel by any transport. Some need to walk up to few days and nights to reach. Upon exit the underground city, there was a silk showroom which sells silk blanket, cheong sam clothes and accessories. They show us how the silk produce from the worm (Chan Choong)..last time when ppl stay underground they used those silk produce blanket to get warm when it is cold and get chill when that is hot. They not allow to take photo inside, so only taken at the entrance.
Women Street – it is actually a shopping complex sell all kind of ladies stuff, manicure, pedicure, fashion, accessories from head to toes…95% was ladies stuff…here u need to bargain when u buy things…again as I said no trying when buying…out if this complex there was a street also selling fashion and food court…Women Street – ladies paradise..Guys u went there sure bored u down.
After lunch we traveled for 5 hours to go ChengDe. By the time we reach there already 8pm.
Check-in hotel (pic above) and have dinner there. After dinner we just went to the town for foot and body massage. RMB100 for 1 ½ hours. We've been arrange to have a suite that night which cost RMB1600 per night. Anyway I dun feel comfortable enough, as the whole hotel feel cold, very quiet, too big, many Roman art pic and design, less ppl, room corridor lights was dim dark, no lift, staircase was a bit dark also, some stairway door was open widely but very dark, not switching on light. When I step in my suite, very big again, with sofa set and TV, mahjong table, and bedroom area with TV also…things are like a bit dusty...may b long time no ppl stay in. I was hoping the morning come faste...very scaryyy ahh...
DAY 6 – 3/7/05
LiZheng Gate Summer Villa Mountain Resort – This is largest existing Royal garden, was built in 1703 with an area of 5.64 million m², It blend the charms of both South & North China. The Qing emperors used to handle state affairs and spend holidays here. Nowadays it has become a famous tourist resort in China. In 1994, it was inscribed on the World Heritage List by UNESCO.
Bi Shu Shan Zhuang
many lakes and garden. There got a few Mongolian Yurts. One of that only allows to enter but it has been set up like a shop to sell local souvenir.
Potala Palace – One of the eight outer temples. Also known as Lamma Temple. From far can see The QingChuiFeng.
GuanDi Temple – Buddhist praying GuanDi idol here. Big GuanDi statue here.
After lunch we traveled 5 hours again back to Beijing city.
ChaoWaiMen – Since we still got time the local tour guide let us go there again for shopping. This time we successfully bought 2 bags and 2 watches, with good price, after bargain and bargain.
DAY 7 – 4/7/05
Morning after breakfast, traveled 2 hours to Tianjin town.
TianJin – is one of the import and export hub of China. Many manufacturer set up their factory here. We visited the Cultural Street, Fashion Street (
lowest pic
) and Food Street. The local special meal here was GouBuLi dumpling, the taste was not so tasty, is something like our "sang yook bou" but just smaller, ours one taste better.
"Jing Fa" brand Cloisonne – also called enamel, made in Beijing. This is a handicraft enterprise. They produce vase and other display item. The manufacture of Cloisonne Ware requires for rather elaborate and complicated processes in nature. The main working processes are base-hammering, copper-wire curving, soldering, enamel-filling, enamel-firing, polishing, gliding etc.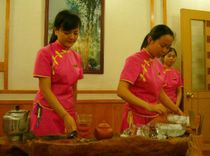 Tea house – a tea drinking showroom, they treat us drink 4 types of tea and also teach us how to play with the Chinese tea-set and style of drinking each type of tea.
DAY 8 – 5/7/05
6am morning call, 6.30am breakfast. 7am we left the hotel to airport. Along the highway as usual traffic start congested. Carefully look at the faces of the city. Reach airport at 8am. 8.30am our luggage check-in. 8.45am check-in wait at departure hall, so unlucky that, during custom scan of belonging my 3 can bottle of almond drink being open to check. L so no choice since he opened it we hav to finish it up else have to throw away..too bad thought to brought back for my family to taste it. Just shopping awhile at the duty free and bought 2 magazines back.
Boarding time 09:10, flight MH371 time 09:40. Bye-Bye Beijing…
What are the things need to take care when you are in China?
Since we are tourist, those roadside seller will wait u at the exit of those tourist spot to sell u things..they will come to ask u 1 by 1 even u dun tend to buy they will still ask u, wan or not…tell u the price…if u r walking they will follow u walk together…once u buy from seller, other seller saw they will come n haunt u and ask u to buy from them sell u the same thing by giv u more cheaper price. When u sit in the bus waiting for others they will knock u at the window to show u their product and giv u hand sign…those things they sell normally are souvenir, they sell it at very low price. Some really worth buying. This seller appear everywhere, even u came out from restaurant aft lunch or dinner they are there to sell u things.
Fake RMB 50 note in green color are flow in the market. So, becareful when u get RMB50. It was green color, fake note also same color but the paper quality is different. To make sure u get the right note the "50" next to MouTzeTong head will have 2 colors when u look at it in straight way and turn to slide way. Dun think u can used away to RMB 50 easily, once the cashier know it is fake they will giv u back the note and ask for another one, they are smart enough to differentiate it. Also, becareful when they return change to u, make sure those note they giv are RMB. Normally those roadside seller or those haunt u buy thing they'll do that. Tips: prepared more small note to buy things try not to pay them in big note, since things in China are cheap, big note are hardly used, unless if u buy expensive things.
Here are some entry ticket prices per pax: -
The Palace Museum (Forbidden City) – RMB 60
Temple of Heaven – RMB 35
Summer Palace – RMB 30
Beijing Zoo – RMB 20
Beijing Confucius Temple – RMB 6
JingShan Park – RMB 2
Kungfu Show – RMB 120, with group RMB 80
Ice-craft light – RMB 60
Summary of the trip
and
Full photo album
.