Last Saturday was my cousin sis wedding. Those relatives from my mum's side were came down from Ipoh to attend her wedding dinner. Most of them were over night at my Puchong's house. The house was so pack, until the dining room and all bedrooms were occupied. They wan to pack together is because they wan to chit-chat n get close. Everytime when we all met up they sure chit-chat until midnite...coz in a year we only met few times if there is occasion else we only met once during CNY....the last all my relatives met was during my wedding...
I so miss of my dearie nephew and niece from Ipoh...everytime I know they came I'll be very happy looking forward to see them...they are very small just 1 and 2 y.o kids..
Dinner held at Serdang. As usual dinner time starts aft 8.30pm..we got plenty of time chatting before the dinner starts...looking all my nieces and nephews growing up i feel like I very old and wanted to hav my own one faster..so that point of FAQ they wan to find out was coming to me every now and then when I met my cousins, uncle n aunty.
The next day morning, my family brought them to have breakfast at OUG. Later in the afternoon, most of them will go back to Ipoh...They dun hav much time to stay long in KL since my cousin's children need to go to school on the next day..no choice everytime they need to come late and go early..so left only one of my aunty, cousin sis n the young kids with us....ohh..so lovely they both...try to look at this, we were look similiar during small...I only found out this when my aunty told me..the more she grow up the more she look like me....
Do we look similiar?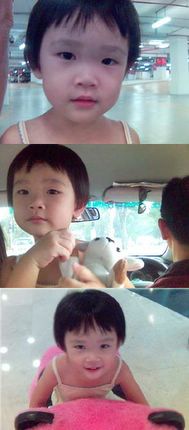 Now she was 2 y.o very lovely gal..she like to stick to me and talk to me..she can well defferentiate all the relatives very well...below is her brother, Dickson..a lovely boy too...at this age he likes to run n move around, this is the only pic i can well capture of him...
We went The Curve, not able to buy anything as the children is follow...need to follow them closely coz they can ran faster than u...so my cousin sis n her husband just window shop a while for some house things as their house ready soon at Mutiara Damansara. We got to visit this flea market stall...not many as compared to Mont' Kiara one..dunno why I got this impression how good if can sell something here...things sell are like cakes, ladies accessories, local traditional wear n accessories..are all simple one..I think some of them are hand-made, especially those ladies accessories..suddently something flash over my mind, thought of shirlyn who can make these crystal accessories very well .why not she set up one here, just during the weekend....n so coincidence she also mention abt this in her blog..i got this strong feel to help her if she were doing it...dunno if she mind not.. :P
Aft spending 1.5 hours there, children was like tired n sleepy, so we decide to go home. But we were hungry at that time coz we hav't took our lunch. Then we proceed to SS2 to hav some light food, then straight away go home to sleep...since tomolo they will back to Ipoh, so at night we treat them a dinner near Tesco Puchong there.
Aft dinner they dun wan to go home yet, and since my family fetching me back home so they all follow me back to my house to visit a while. Aft all, this family day was simply warm n nice...till we met again...may b next yr CNY...