Since 10 years ago our country experience the haze, cause of the burned forest in Sumatera, and now the haze blow over to us again from the hot spot in Indonesia …aft all I believe today have break the record over the years we having the haze, when u see outside u were totally no mood…Haze situation is deteriorating…Listen to MyFM tis morning topic was not run away with haze, haze, haze... Even the call-in section also talking abt how the haze effect to u, and also talking abt the government hopefully they can take immediate action in making the rain, to protect the citizen's health.

Reading the news today the API (Air Pollutant Index) is at the unhealthy level...tomolo and friday the school will be close too...and this situation might go to dangerous level if not rain...oh God..pls pls...pls pour us rain to wash away the dirt air and give us fresh air.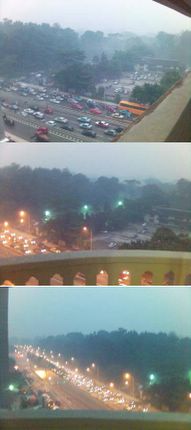 Taken at this evening between 6.30pm-7.30pm...very blur..

Nowadays I'm not eating outside, if were to eat also look for indoor one…try to cut down n prepare my own…outdoor hawker stall food is definitely no-no…drinking a lot of herbal tea n plain water, pills for breathing system (to prevent my breath n nose problem comes back), more fruits and Vit C. I even not open up doors n windows while I at home, just to cut down the dirty air flow in. As today are quite serious got burning smell here...can't breath in longer when stand outside…Some frens around me are not feeling well and fall sick, hope others will take good care n dun let urself collapse.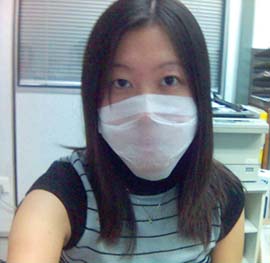 My office look today...Mask On ppl!

Received a sms reminder from Caren (secondary fren) about TPian gathering on Sept. a dinner buffet gatheirng at Sunway Hotel. I still condering want to go or not..hopefully can make it...can meet u p a lot long lost fren.
Since early of this year me n Brandon was planning to go Bali, but we dunno when we can make it. Chance is here, what a right time this things fall to us..from the sales we made, we got the travel gift voucher free to Bali 4D/3N free & easy for 4 persons. I bring along my parents to join. So today I called up to the tour company to make the arrangement of flight ticket n comfirm the hotel. 2 hours later tour officer called back and tell me everything was comfirm n ready. We will be going there 1 month later (*still have to wait this long, as those earlier flight all fully booked). So now I got to collect more info abt the place to visit n food. Bali...Bali…here I come..