It was sooo long since the last we 3 go out together. Finally, on Monday we got the time and we spend our day out of the house for the good 5 hours at Mid Valley. We just want to bring Terry out of the house as he has not been to anywhere except back to hospital for check up.
He is extremely bored at home (actually me too). Everyday evening is raining - can't go out to park or else the big hot sun hanging up the sky - he can't go under sunlight. On Sunday, happen my parents and aunt visit us, when they leave the house, he looks so dissappointed after waved bye-bye to them. He kept pointing the door, whining and want to wear shoe go out. Oh boy, so pity for not bringing you out. So, for not letting him down, the next day we got brought him out to walk walk no matter how.
We out the house around 11am and easily get a parking too when we reach. We only eat, window shop and bring Terry for all kid's ride in Jusco.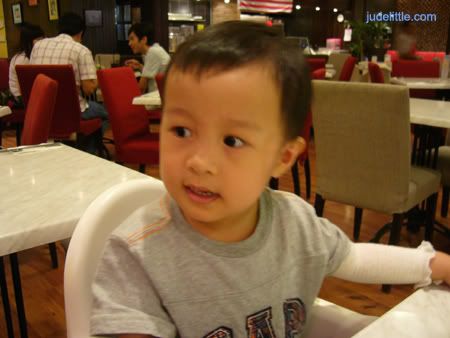 Happily waiting for our food at Kenny Rogers

Terry was having the sidelines - rice, baked bean, mash potatoes and muffin. He was all the way "uummm" means taste good la...But to me it was getting bad each time. It was like more than 10 years ago, every Friday I went down to KL Kasturi for tuition. Me and my bunch of classmates for sure no fail will go for Kenny Rogers at Kota Raya before our class. During that time, it was all really good and tasty. Too bad, now I can't find back the taste.
We proceed to window shop for toys. I was so afraid the boy will going to hold on one toy (especially those Thomas), refuse to let go and later may be cry and create havoc. Luckily he was not, when I try to distract him by saying Thomas is there, more here and etc..he will put down the toy and let me hold his hand and go. We then went into Jusco for all kid's ride. He was good too, not stick to one ride after it stop and co-operate when we want to go.
After the ride and all, he was tired to walk. Daddy carry him and we proceed to The Gardens. He refused to walk too when we were there and wants me to carry. So I did, carry him walking up and down The Gardens till he falls asleep on my shoulder.
Since he slept we can't walk for longer too. The boy refused daddy to carry, he cried when I passed him to daddy. Walk back to Mid Valley, feel hungry already. We have our late lunch at Madam Kwan's. Hubby ask for Fish and Chips and I have this -

Nasi Bojari
My first time here. It was good, the portion is big, see the drumstick..very satisfied. This plate makes me full till 9pm. Terry was still sleep on me while I'm eating. Back home my whole body ache after carrying the boy walk in the mall. Took a quick shower and catch a nice nap. Dinner time I cook again, but I have it late.
Thats was how we spend our day. See, things around are expansive, just eat without shop already damage RM100+. Really hard to afford to go shopping and eat out every week.