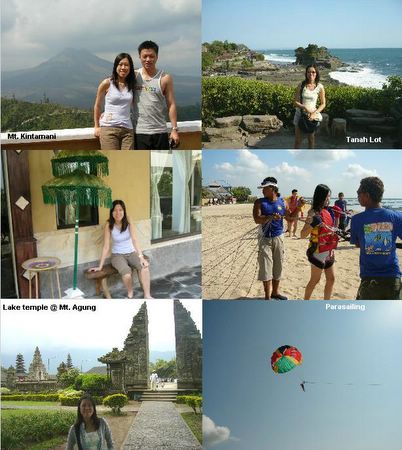 Thought I will get tanned during the trip, in fact not, coz do not hav enough time to stay at the beach.
Place visited:
Batik printing house, Ubud wood art & woodcraft market, silver and gold market, Gua Lawah (bat caves), Monkey Forest, Tanah Lot, parasailing at Nusa Dua beach, Mt. Kintamani – Besakih mother temple, Mt. Bratan – lake temple
Weather:
29'C-32'C (sunset at 6.30pm, sunrise at 6am)
Money spend:
RM1300 – 3,263,000rp. Free and easy trip tend to use more money than the tour lead trip.
Other activity:
Spa (Balinese full body massage, body scrub, yogurt rub, flower bath, foot massage and facial wash), only RM145 (tax include..good! ..cheap too!), Kecak Dance - a dance without music, they make the performer make sound by themselve. This is dance for they praying ceremony.
Food:
Basically the food still ok, mostly not spicy, rice still the main course. Popular with seafood at Jimbaran, lunch buffet facing the Mt. Batur and on the other day facing the lake at Mt. Bratan. Very cheap lunch buffet only RM 20+ per pax. Every restaurant charge different tax some 10 %, some 15%, some no tax. Better ask before u place ur order.
People, Culture & Nation:
A country for holiday and relaxation with beautiful sun and Indian Ocean. Tourist mainly came from Australia, Europe and Japan. 7 aircraft touch down at Ngurah Rai airport within 2 hours. Can see that this country is brought up by the tourist. A very strong religious island, everywhere can see the stone craft of their God and they see praying is important than any other things. Many ppl there selling and making stone craft and wood crafting of anything, from furniture, god faces, human, animal…etc... No doubt their crafting work are fine. Almost the small village main activity is crafting. Their Bahasa speaking is slightly different than us. Some Bahasa term they not able to understand ours one. At tourist spot, those business ppl can speak Japanese too. Their attitude are quite kind and well manner. Their building not taller than a coconut tree, believe that it will be safe from disaster. No highway or toll. All roads are small and narrow, but their driving still is very good. Hardly found broken and old vehicle. Infrastructure is not that well. Taxi only go round the city area, outskirt they dun go. That's why must hire a tour guide to bring you go around. Some young kids who not afford to go to school they worked in the temple. They more willing to work then study. Can't see any beggar on the street or small villages.
Will upload more pic in my album soon.