Sunday after church, my good brother asked whether I want to go shopping at 1 Utama (well normally is I ask him more than he ask me). Since quite a while not been there and I always have things to buy, so we went while my boy taking his nap at my mum's place.
Just a short 3 hours shop and window shop. On the way to 1U, we dropped by 100yen at SS2 to check out some bento stuff. So disappointed, it is still the same..only rice molds and heaps of bento boxes. I grabbed the car windscreen shade and a cloth dusty stick cleaner roll (don't know how to call the exact item name - used to remove the dust stick on the clothes). All 3 items for RM4.90 each. The cashier go punched 4 items. When I saw and checked it, we were already in the car on the way to 1U, so we make a U-turn back to claim back the differences.
While my brother went to find his stuff, I shopped at Jusco, renew J-card and redeem the J-points for a RM20 voucher then we continue stroll around. Wanted to shop for new shoe and dresses too, but not really in mood to look for it. Since Halloween and Deepavali is around the corner we found this nice deco at New Wing.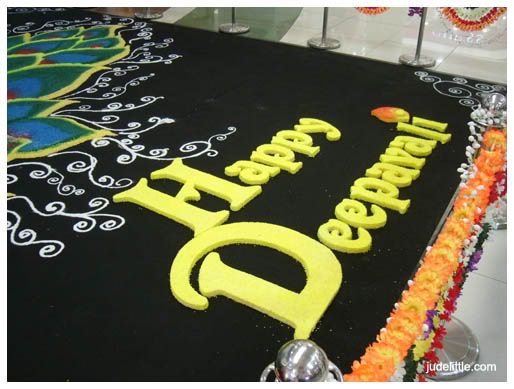 Then later, we went to Old Town Kopitiam. Since this restaurant is around for quite sometimes, but yesteday was my first time eating there. I don't find the nasi lemak is good as many said (maybe they refer with Rendang chicken), the fried chicken is fried till hard and salty too. The Asam Laksa is good - thumbs up and same goes to the drink.
Special Nasi Lemak RM 7.30, Asam Laksa RM 6.80, Black Current Yogurt Smoothies RM 6.80
Thats my Sunday, today is Deepavali holiday but hubby not around got own work to settle.