奇闻!吃月饼竟吃出纸条......
"平分秋色一轮满,长伴云衢千里明",又将逢一年中秋时节,香甜的月饼,特制的礼物现在已经是人们津津乐道的话题了,说来也奇怪,世间真是什么奇怪的事情都会发生,吃月饼吃出祝福的纸条?你见过吗?


近日,知名人士Judy收到朋友赠送的一盒精美的月饼,非常开心的拿出一两个来尝鲜。可不吃不知道一吃吓一跳,刚吃了一口,感觉有点不对劲,发现嘴里好象有个纸团,拿出来一看,上面还写着一行字。对,就下面这个,您看准咯: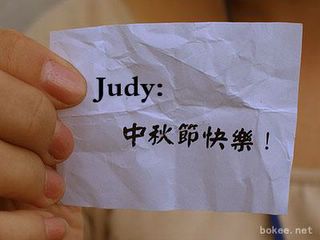 您说奇怪不奇怪,开心吗......
听到~想到~心到,说到~做到~得到,时间到~我的美好祝福已全部让你收到。
Judy!中秋快乐!微笑甜甜!".
Got this special greeting from Yok Lee in MSN. Not forget here to wish all who read my blog a very Happy Mooncake Festival, may u hav a great time gathering with your family and for those who not with family wish u hav a peaceful night with those u together with. Heard from radio this morning they said at 11.45pm the moon will appear to be big round and bright. Lets see tonight.