It was a rare occasion that we dine out on Saturday night. I actually planned to cook, but since hubby called early before I heat my wok, so ok, we can off for something good. We have our dinner at Banquet, Bangsar Village 2.
Our first time there and it is quite comfortable to walk around as it is less pack. We go straight to the restaurant once we reach. In the car, I already told the boy what we going to do and remind him to be good and behave. He was so jolly throughout the night and walk by himself. Hence, I foresee this round we will have a peaceful one.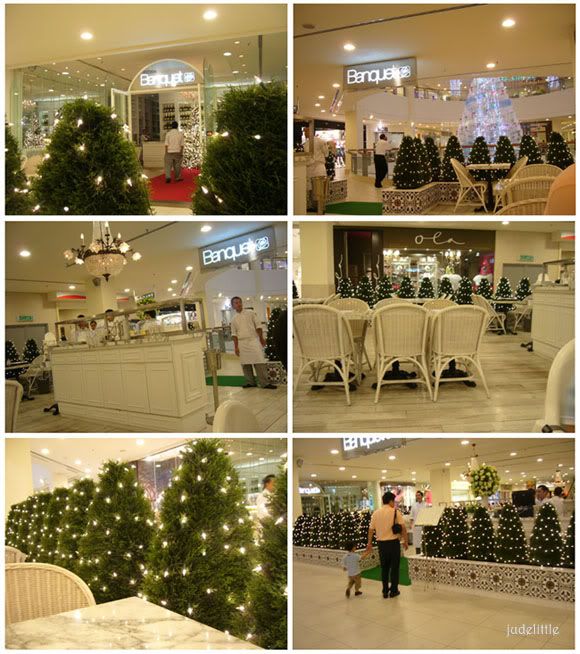 Banquet
We choose to sit outside of the restaurant, as the atmosphere is brighter and spacious. The staff set in a baby chair for Terry and carries him up to sit in. He was stoned for few seconds for having stranger carrying him and starts to give me an almost-want-to-cry look. Quickly I showed him his favorite biscuit and raisin (After last incident, I know what to do the best for him before he emotionally throw up, I just missed this last round). Off I saw him giggling there, when he saw lots of snacks in front of him (normally at home I only allowed him to eat very little). I was relief by then and say to myself, that's nice can order something take-time-to-finish.
The menu
Looking through the menu carefully and place my order for the Entrée and drink. Love the green and white surrounding there. Terry was no surprise on this new environment. He finished the snack in a dash. He then kept wanted to drink the mix fruit juice when hubby's one was place on the table. I just afraid that his cough will simply come back as he only recovered a day before, so only allow a few sip.
Here is our dinner,

Chicken Casserole (RM32), Garlic Fried Rice (RM16), Beef Tenderloin (RM69),
Mix fruit drink each RM14 – mine was Green Card (Cucumber + Lime).
(No pic) Dessert - Tiramisu cake (RM18)
This time I can slowly eat my plate. The food and drinks were tasty and nothing was over too much with spices or over cook. The beef and chicken meat are tender enough. My plate was accompany with lots of mushroom gravy. The Tiramisu cake was very nice too as it almost melt in my mouth.
I fed Terry with some rice, he ate not much. But I'm happy enough that he can sit in the high chair for the whole dinner. When he was full, he began to feel boring and keep making noise wanted us to carry him down to walk. I'm clear his left over and carry him away from the table for a while. Hubby ordered the dessert later. No pic of it, as he not allowed me back to the table and rushing us to leave the place. When hubby takes over him and settles the bill, I quickly wallop the remaining quarter of the cake.

Christmas tree make using carbonated drink plastic bottles



Outside KizSports & Gym
Later we strolled round the complex and thought wanted to take some pictures of the boy with the Christmas tree, but he just couldn't stand still for a shoot…once I grab him he wanted to run away. He just interested over the empty-face board for photo placed outside the KizSports. We walked till almost 9.50pm. Back home, everyone wash down with another glass of milk before heading to bed.
That's our night with good food and a jolly boy.