It has been more than 3 weeks I'm not out of the house, minus the ride went for check up appointment with the boy. It is so freaking stress, tension and boring at home.
My mum has been with me for 2.5 months time since accident happens and last weekend she leave me alone to take care my boy. Although it is still not easy, my boy will still kicking, scream and cry while I apply oil, scratch all over when nobody looking at him (he is so smart, he will get something hide his hand and block our sight and he scratch there), but all this got to bear with him, just be patient and let him recover well.
I feel like I'm more busy then before. Now I got to cook my own lunch (no more cater), Terry's lunch and dinner for all, done all the house chores just like I used to do. Sometimes cooking is hard as I got to think of what food is suitable for Terry on lunch and dinner as he is on rice and soup now. Most of the time will try to cook something which everyone likes. Hopefully I get use to this new routine soon.
When I'm busy at the kitchen, my eye will still on him (so that he won't scratch) and satisfied all his wanting and pointing for this and that. Hopefully I won't get cut on my finger or forget to wear my underwear...hahaha..
Yesterday, I got my half day off the house. Took LRT and went to shop alone at KLCC, checking out all I want to see, buy all I need and eat alone. It is so relax and I letting out the stress by spending time alone. Even I walk till my back and feet ache, but I'm very happy. I spend most of the time at toys department checking out Terry's favourite - Thomas and Friends and merchandise. I'm so surprise that it is a lot more now than before...finally I found there are Thomas bedding set at Parkson. I never get that, till he can sleep alone. Quite disappointed when I'm at Isetan, their
baby bedding
set is so pity less and limited and not to say kid's bedding, it is totally can't find at all.
After a good 4 hours outside, I bought and wear back a new pair of heel (walk till my toes ache, change shoe), some face masks and a Thomas Sing-a-Long VCD for Terry. This boy he is sooo happy when he saw his favourite Thomas and end up he watched repeatedly for 3 times on the same VCD. There goes his night on that VCD, while I got some quiet time after dinner for my new collagen mask.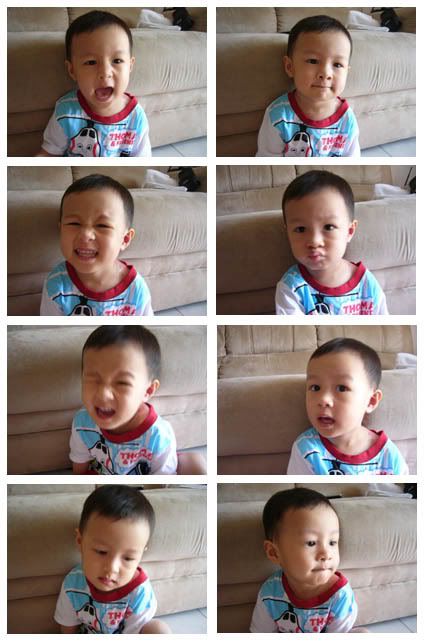 Multiple faces of the Thomas lil fan