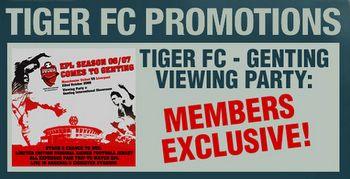 Sunday went up to hill to enjoy the EPL Viewing Party organised by TigerFC. Brandon was one of the first 200 who register online and got it free and can bring along a partner to enjoy the party. We also can enjoy:
- Free transportation to Genting Highlands if you are from Penang, JB or Kuala Lumpur (one way)
- One night's stay at First World Hotel (twin sharing)
- A Tiger beer for you and your buddies at the Viewing Party
- 2 complimentary meals per person
- VIP seating exclusive for Tiger FC members

As for convenience, we drove there. 3pm the Hi-tea with football legend & soccergurus starts, but we late for 30 mins due to heavy rain and a bit traffic jam at MRR2 highway. But luckily all the way up no rain, and we used about 25 mins drive from the bottom to the summit. After we found a parking, faster we run to the Genting Hotel and look for the café - The Olive, which they having the hi-tea there. The day this restaurant also close for public.



After a short section of sharing from an ex-Chelsea footballer (forgot his name), a photo section was on with him and we are given his photo with signature aft that. We also enjoy the hi-tea food and the ambiance before we check-in the our room at First World Hotel (must enjoy a while as this restaurant is one of the participant of KL Int' Gourmet Festival). Malaysia's hottest icons in football - Sheldon Xavier and Jeremiah Manvir, are 2 of the host of this viewing party. The programme of the night was the Genting EPL Viewing Party -10pm at Genting International Showroom.


This was my first time stay at First World Hotel. A twin sharing room, very very small room. But the window view is nice, can view the whole outdoor theme park. Since the time is still early. After resting, I went down to walk and buy some food from Time Square at First World Plaza. As usual, Genting everywhere is full of ppl. Many shop changed too, last 2 years there were still many fast food restaurant, now there are more chinese and local food, which is a great way to introduce local food to tourist. Thought of going to Casino and try our luck, but due to Brandon attire, he is not allow to go in. So we just walk a while from First World Hotel to Genting Hotel before the party starts.

Before 10pm sharp, we walked back to the Genting Int' Showroom. Queue up to enter the hall, but too bad both of us are not the Genting WorldCard member, so we not allow to go in. But luckily the card counter is still open to new applicant, faster we go to the counter near Casino and make one. In fact, many TigerFC member also not a WorldCard member and they are also in queue to make one.


Upon entering the Showroom, we are given a whistle, coupon to redeem free drink and also a small paper to write down your prediction score for Man U vs Chelsea match. For my prediction, Man U vs Chel I give 2:1..haha...I'm not so sure how well is both soccer team played, just know that Man U is very famous in the game, so just give them a 2. Somemore I'm not so keen for the prize also (all expenses paid trip to watch EPL life in Arsenals' Emirates Stadium). The actual match time is 12am, so before the Live game start, the Managment host, throw us some stage performance and games. The performance are dancing and swimsuit parade by so called Genting EPL babes, 8 of them.


The games are like guess the footballer name from the word scrabble, guess the position of the ball, guess the footballer name from the picture, guess the name of the football club logo. One more game is beer drinking with baby bottle by lean on the EPL babe's arm (they are also put up with bib and baby cap..damn funny!). The winner of beer drinking took away the original signed Chelsea jersey (Lampard 8) worth 10k (wah..so expensive man! of coz is limited only 1 and this guy, a Chelsea fan, damn lucky..)

Before the Live match begun, we leave the hall, as for our plan we dun wan to watch the match, as we are getting back to home early morning at 5.30am. Manage to get down from there at 5.30am and reach Puchong to fetch Terry at 7am. Terry very good boy, luckily no mummy sick and home sick for half day and a night. First time overnight without me. It is not easy to put down baby and ourself to go off. As for now, I treat every outing and trip very well, as a chance to relax and rest without worried of baby. Also a great time for only 2 of us pak-tohing.
Although both of us not so keen for the match, but is our prediction hit? MAN U vs CHEL - 1:1, No...we don't got that (0:2 from Brandon). After all is quite fun too..