Aikkss, I still haven't wrap up my trip story on Hong Kong and Macau. So better finish sharing it with you all before I forget, it was 3 months ago already since my last update.
21-Jan-2008
- This day we left Hong Kong and back to
Macau
, as the next day we depart from there. Wake up early in the morning and take sometimes shop for the last minute at Tsim Sha Tsui area only. Took our breakfast then walk down the entire Nathan Road from our hostel, all the way crossing Yau Ma Tei.

Fish noodle HK$32 (yummy)



Streets we came across
On the way, couldn't found many retail shops open at 10am. Hong Kong business hour is quite late. Shops will only open at 11am onwards and close between 10.30pm-11.30pm.

The morning traffic at TST
My target is to shop at Esprit and wait till they open at 11.30am. Then, quickly grab and go. Able to bought some at good price. Different Esprit store running different sales items. On the 1st and 3rd day of shopping, manage to get what I listed in my shopping list and quite satisfied already.
I didn't took lunch before broad on the ferry, just afraid that the series of vomit will happen again. Walk all the way from Tsim Sha Tsui to China Ferry Terminal and bought our ferry ticket. The earliest broading time 2pm is full and need to wait for 2 more hours for the next sail. After few round asking, the First Ferry counter able to offer us the Concessionary fare ticket for HK$128 each (the cheapest one).

First Ferry boarding gate
This time I choose the seat at the last row. It is good on day sailing as the sea wave not that strong and the ferry is smooth sailing without much going up and down.
Reach Hong Kong-Macau Ferry Terminal in exactly an hour time, grab a map then took a taxi back to the hotel to put down our luggage before Macau touring.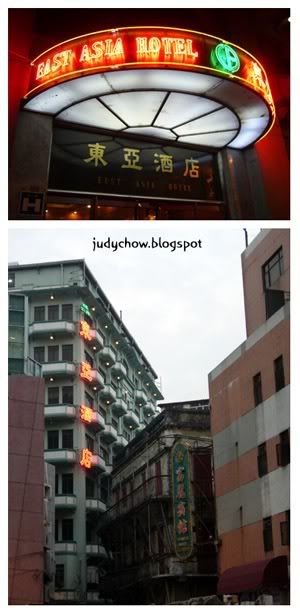 We stay at
East Asia Hotel
, a 2 stars hotel in the town. Throughout my research on hotel stay in Macau, it is very extreme. Majority is 5, 6 stars hotels and hardly you can find budget hotel. Even if you get one, it is almost like a jail kind (very terrible condition). So, the one we booked, we still satisfied la..can't ask for more in Macau. HK$320 a night for 2 persons and very near to tourist spots. Vehicles are not allow to drive-thru the hotel doorstep. It is located at a very very narrow street with many other shops very close in between. We drop at the main road and walk 2 minutes to the hotel. So far so good for the hotel, although is a bit old fashion at the reception. Hotel room still looks good and quite comfortable.
Weather in Macau is a lil colder than before we left Hong Kong, around 14°C. The first place we went was the St. Paul Cathedral. On the way, we have quick brunch in a small restaurant and also tasting the famous
pork bun
.


Late lunch



Pork bun
Before we reach the Cathedral, bought some cookies and biscuit from
Koi Kei Bakery (钜记饼家)
. Macau famous with its almond cookies. Along the street, lots of other famous food selling like dry pork meat slice and other types of biscuits.
Few steps away from here, we reach the
Ruins of St. Paul
. I believe this is the most famous spot among all, lots of people. It was like not came here means not being visit Macau before.

Later, proceed to
Monte Fort
, a hilltop to the east of the ruins of St. Paul. At the hilltop overlook the Macau town, there are old and modern building around this historical city.

View from hill top


Looking at the map is quite confuse, since we not quite sure, we ask the hotel receptionist to guide us to go some other places like Lisboa Casino and Venetian Macau. He advise us to take bus. So there we go we took a
bus #3
(MOP$2.5) back to the Ferry terminal and inter-change to the Venetian hotel coach bus (FOC one). In the public bus, we round the town, everywhere is casino and big big grand hotel. Macau is totally an entertainment city.


Venetian coach bus
Broad on the Venetian Hotel bus and it tooks us to the hotel crossing the Macau-Taipa bridge and we reach the world famous Asian Las Vegas -
The Venetian Macao
. It is heavenly beautiful, like made of gold, huge and fantastic resort hotel having the world largest casino and Venice Grand Canal design shopping complex. It is all about super luxury and high class place.

We took the chance to play in the table gambling and manage to win a little bit. It is not so professional to play here. Very noisy, banker can chit-chatting with customer and as the bell ring for stop bet in between they still accept the last throw in chips. Overall the casino here looks quite empty, may be is the huge floor space and too many machines. We tour the whole casino and check out the toilet too.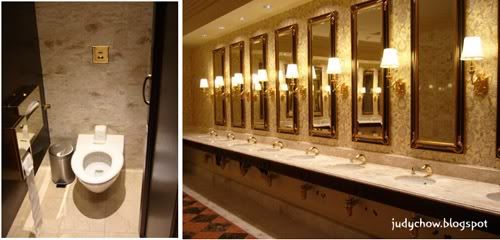 Later, we proceed to the shopping area, there is a food court and a river with shops beside it just like San Luca canal.
We shop there for the last round in Esprit. As I said different Esprit outlet is having different item. Great that Esprit here having lots of Men's wear. So, hubby took his money won and shop all there. For me I also grab my last item there, a watch. We left there later, as the time is not early anymore and we need to go Lisboa too. So not much nice pic we have here and not enough time to go all shops. We broad on the coach bus again and back to the ferry terminal, took bus #3 again and go down near Lisboa hotel. We not sure which stand should we press the stop bell, so I just make a stop once I saw the Lisboa.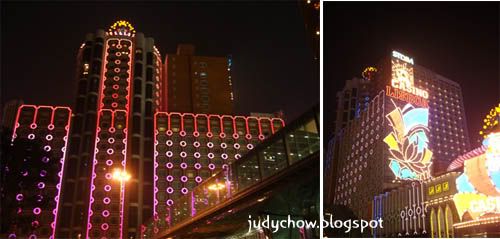 Casino Lisboa
and the extention of the
Grand Lisboa
is just opposite each other. The lighting for this casino is pretty striking. It is another famous and popular casino and hotel in Macau. We not play there, just go in have a look and get free drink. To play here the minimum bet is HK$200. Here, very professional for banker and player. We just watch and walk around then we left.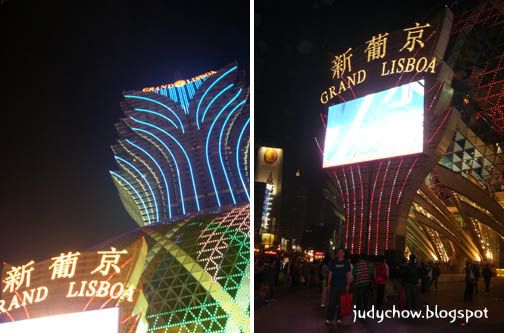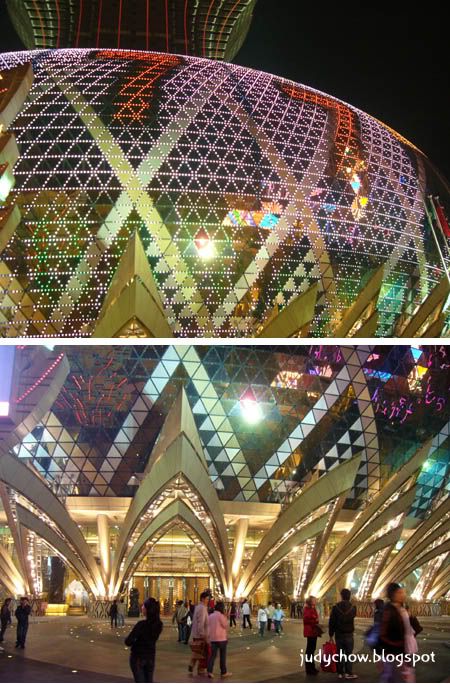 We broad on the bus #3 again and drop near
Senado Square
to snap pics. Shops are all closed (already 11pm+), so nothing much can tour. On the way walk back to hotel, we have a late supper at a roadside stall for the stick food again.

Senado Square




Our supper
The night is never sleep in Macau because the casino is running 24 hours. The next morning we woke up early too to pack and broad on our 10.45am flight back to KUL. The morning weather is down to 13°C, we reach MFM airport very early even before the check-in counter open. So, we have our breakfast there.

Taxi with a small LCD screen on the back of the head rest




MFM airport and food court
We spend all our HKD left in the pocket for our meal here. Thats all about it for my Hong Kong and Macau trip. Back with an empty pocket, a bag full of loots and happiness and great memory to be remember for the rest of my life. Not sure when is my next trip going to be. Hope it is real soon.