Backdated @ 26/10/09 (Monday)
This is another
overdue
post to share, hope my readers still be on track with me :P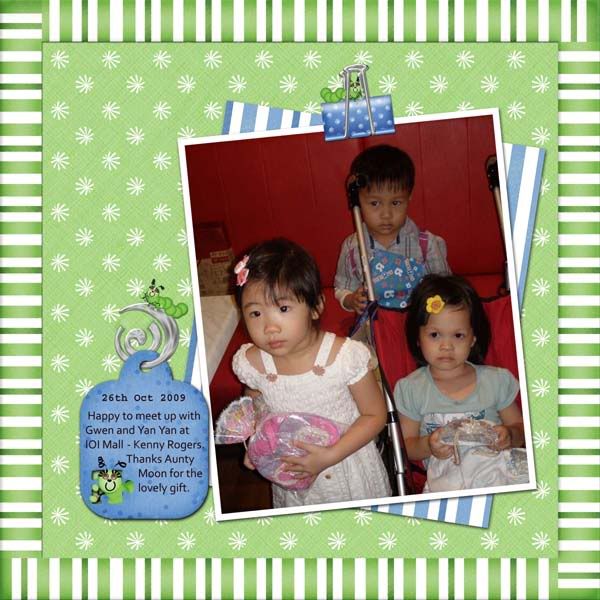 Scrapbook Quick Page designed by KathrynMhire
It was our 2nd time having a meet up with blogger's friends. This round with
Mummy Gwen
and also
Mummy Moon
, apparently was my good friend since secondary school cum mummy blogger now. Since we known the same group of blogger mum, we wish to meet them up personally.
We late to for the meet up due to Yan Yan not feeling well on the way. She had a bad cough and thrown up in the car. We met at IOI Mall and had our lunch at Kenny Rogers. It was a real quick meet up for all of us, as seeing Yan getting more and more uncomfortable throughout the eating time, we not really got chance to chat and stayed on longer. Thanks Mummy Moon for the lovely meet-up gift.
Gwen is such a sweetie-pie and not shy to all the new faces she first met. She is a bubbly girl too through the way she talks and smiles. So do her mummy, a pretty and soft spoken mum. We will organise a Christmas meet up pretty soon and hope it is a fun one for all of us.
Related post:-

Bloggers Meet Up
Poor Yan Yan