Yesterday was Father's Day, I didn't get to see my dad as we got our own agenda and event, here wishing him* a very Happy Father's Day and may you have good health and happy always. *(There will be a separate post all about my daddy, hope can share soon)
He was at the branch church having choir performance and me back at my own one. This beautiful Sunday, over at my church here, the Sunday School kids having a small performance to all daddy.
< 我有一個好爸爸 > (I have a Great Dad)

我有一個好爸爸 寬寬肩膀厚手掌
為我辛苦為我忙 給我做人好榜樣

我有一個好爸爸 寬寬肩膀厚手掌
好像一個避風港 在你懷裡無風浪

爸爸我愛您 不知如何報答您
獻上我的禱告心 願天父看顧您
天父看顧您 願天父看顧您
Following by that, we also have April to June Birthday celebration.
Terry just love birthday and whosever birthday is it, he got so excited and love to blow candles.
Comes to afternoon time, we celebrated it with my in-law at Noble House. There were 3 dads among us. We having set lunch and together also celebrate SIL#1 actual birthday.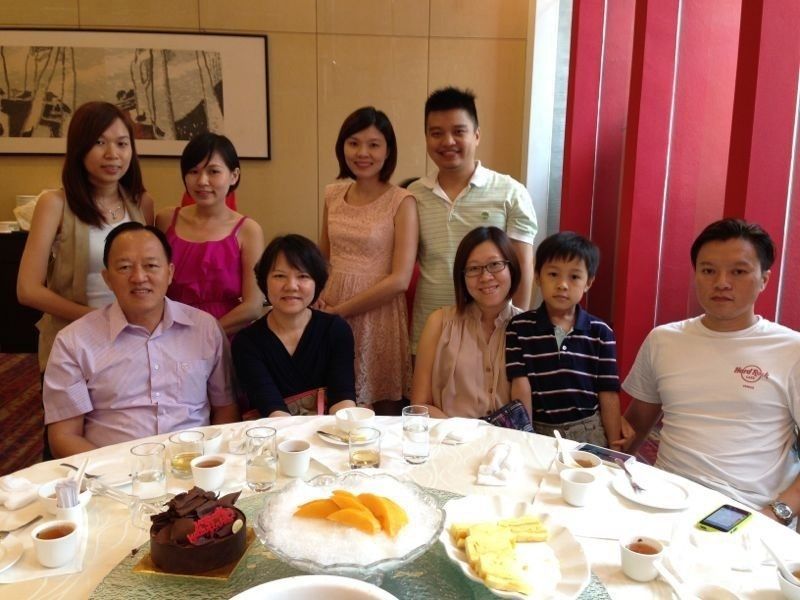 Terry been taught to draw 2 Father's Day card, the blue one did at church, the green one he make it at daycare. 1 for his daddy and the other one for paternal side gong-gong. Suppose there is another one did at school but pass up already and this should be for maternal side grandpa, hope he gets to bring back and send it to him soon. Here I wishing all great and awesome dad out there,
~ 父亲节快乐!~