I have not been updating my blog over a week, besides busy with daily routine also busy on some minor cleaning and couching Terry to write and colouring. The teacher was telling me he not good in holding a pencil yet and doodle, asked me to let him practice it at home. Well, I know the boy have tried his best and have been holding the pencil with all his strength in the correct way. His finger muscles still need lots of practice on the right energy to hold the pencil. Anyway so far, he still able to colour and trace, but need some help in shaping his finger when hold pencil and some helps here and there when writing, else he will grab the pencil with all 5 fingers.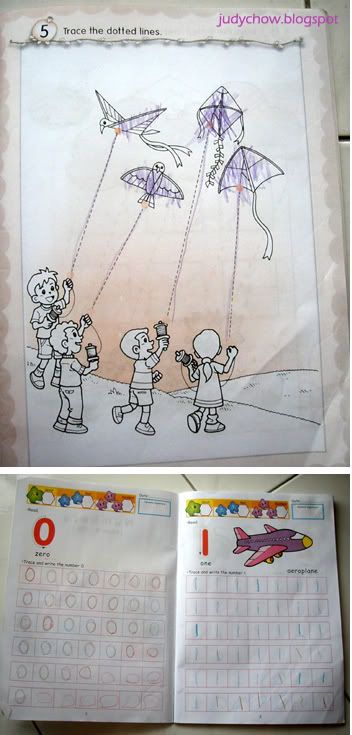 Just on last Saturday itself, he almost finish tracing 80% of the whole tracing book all by himself and did some colouring too on pictures. Anyway I never force him to master it now, whenever he got the mood to write I will couch him at the same time.
OK, back to the topic..
Over the weekend, finally I've settle all the CNY shopping. It was really a tiring one for me. On Saturday, I listed down some few final things to buy before out the house and just brought my small purse out with cash, IC, driving license inside only (not bring bag out). I went OUG medical hall first to shop and almost finish for the cash I brought..left like RM30 only. There were items I need to buy from Carrefour, so heading there after shop at OUG without really check how much I left. So went in, pick all I want, then before my turn to pay only realized,
oh shit
, I'm not have enough money and also no credit card! Luckily not till after the item price got scanned, else the cashier sure curse me. I quickly drop the basket (not a single trolley available when I shop,
lagi tiring
, coz I need to hold the boy and also pull the basket) left it at the service counter inside Carrefour, then rush back home to get my credit card, then return again like a mad cow to pay what I have pick, raining too that time and jam a bit at the parking entrance.
Phew~~~
back home 7pm+, thought can call it a day. Suddenly friend call up wanted to collect cookies (which I'm selling) at IOI mall at 9pm. Quickly shower and ate dinner then out again. Pity boy, Terry only have like 13 minutes of nap in the car before went Carrefour, he was all tiring too but can't sleep coz still need to go out. After met up my friend then went supper with my mum too. We reach home at 11pm and hit the sack at 12 am. So
lesson of the day
- must bring my bag and full purse out when go shopping! even no cash also nvm, as long as carry the credit card, always can end up with many unplanned shopping.


Gift packed ready to send to both side of family and relatives
Sunday, help my mum to prepared reunion dinner then delivered cookies to 3 places. We had it a week earlier (since after I got married) coz I won't be able to meet my own parents on CNY eve for the family reunion dinner. At night, we have a sumptuous dinner together with my God sis and her kids.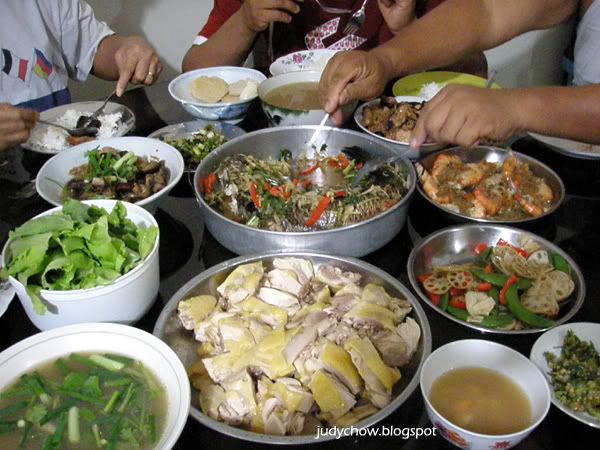 Soup, Sang yu fish (蒸生鱼), steam kampung chicken (白切鸡), prawn (醉虾), mushroom/oyster/ sea cucumber (冬菇海味), black wood fungus with meat (黑木耳猪肉), stir fried lotus root with mix vege, sotong stuff with fish paste (酿苏东) and fish cake.
She gave me a tube of home-made fruit cake and nut slices. For the fruit cake, I can't wait to eat it now. She has used some great ingredients to make like Martell (almost finish a bottle for making 24 tubes) to soak the fruits, organic fruit juice, fresh orange juice and giving few times of wrap and unwrap to let juices to absorb and all... Now it is not the best time to eat yet, need to put a little longer for better taste. Truly, I never like confectionary fruit cake selling outside plus I'm not ever taste home-made fruit cake before.

I hope this will makes me like it since ever, since the ingredient itself look so good. The boy have the jolly time playing with his cousins till do not want to eat dinner. He only ate it by 9.30pm when my sis and kids leave the house. We hugging the full tummy back home at 11pm+ and slept at 12am.
Here are the new clothing I bought for Terry over last 2 weeks.

Polo Ralph Lauren l/sleeve shirt from FOS RM39 and set of homewear from Isetan Garden RM23.70 after -70%



Padini l/sleeve top RM29
And, a Crocs shoe *fake one*. Got it at RM15 from OUG morning market. By the time I bought it was 4.30pm already, they are still there and not yet leave since morning. I simply love this pair of shoe. Though it is cheap and fake but quality is off good and Terry likes it very much, cause got a car. He try a few design and many nice design no more sizes. Hello Kitty one still got a lot for adult and kids and they are really cute. I don't wear crocs for my feet is off small and not nice wearing it, so I didn't buy.

Modelling with his new shoe, got his hair cut on 31/1
For my hair, I've got it done on 23/1 at QS Hair-Do at OUG Mega Mendung, RM130 for cut, re-style and full colour. Knowing that 2 weeks before CNY the price will hike so better do it earlier. The new hair design couldn't see much here, cause I didn't comb properly and style it. Lower part is layered and half to top is light bob. I'm pretty satisfied with this hair-stylist as she has finally make my stubborn hair line to change to move more hair towards to right, as previously it is not left not center. With this new hair line my face shape looks better.
Now left to do is waiting hub change new notes, pack ang pau and may be treat myself for a pedicure. Have plan to meet up with
lovelymummy
in Ipoh during CNY. I'm very looking forward to it, hopefully we can make it this time as we wanted to meet since 3 years ago.