This party was the first ever PayPal Asia Community event here in Malaysia. Needless to say, I'm proud to be one of the invited guest, there are many more members who wants to go but their RSVP-ed got rejected due to limited space. The night, there are roughly 250+ ppl at the club.
I'm just a small potato in Paypal network, where I only use it to receive my online funds, withdraw funds and making payment on those purchases from eBay. Currently Paypal is on the way of expanding and enhancing its function for online business and at the same time helping merchants and protect buyers.
The night, there are many making fortune merchants gather there. I even met my secondary schmate who was working full time in her eBay International business. She shared with us her ups and downs with eBay and Paypal. Knowing that now both eBay and Paypal are very strict and before any risk happen to seller, they immediatedly stop seller from listing, remove listed item for certain reason or freeze account. I roughly know about this restriction too since I'm selling in eBay.
OK, lets see what's up on the party. Due to traffic jam at city centre, we only reach there at 7.45pm.

Candle lit all way up
The place is exactly at the same stairway up to entrance of Tamarind Hill Restaurant.
Upon entry and registration, we received a passport wallet with the event schedule inside and 3 games vouchers.

Free flow of drink and dinner were served throughout the night. There were beer, wine and chilled juices. Dinner was a bit out of my expectation, they only served some finger foods, anyway it is quite special and taste ok.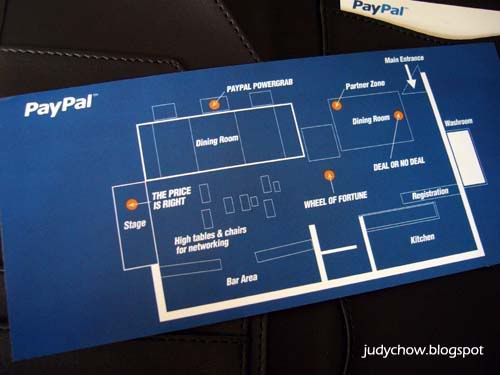 The floor plan



The environment



The programme
The games are -
Wheel of Fortune - Can spin 1 time only, many gift items on the board and for cash there are RM10 and RM50. We got a stress ball and notepad back.


Grab A Grand
- Put your hand into a blow fan box, stir the paper up in the air and grab the flying papers as much as you can for up to 3 times. Those papers are printed with numbers which indicate the amount of cash. We both successfully grab RM42.

Big Man in action
Deal or No Deal
- Pick 3 envelopes out of 6. The 1st envelope actually determine the price you will get, after revealing yourself the later 2 envelopes price. It is either you deal the offer given by the game master or take the envelope price you choose. We both deal for a total of RM60.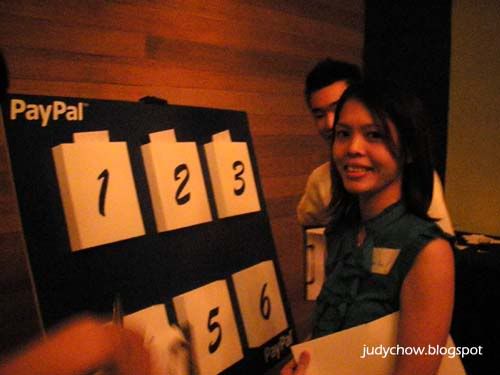 Follow your heart or brain?
Everyone gets to play all games for once and no one back with empty handed. All in all, we only manage to grab back RM102. Mummy Moon got around RM250. It is all depends how good are you with the games, especially at the Grab a Grand, those good hand are able to grab RM70-80+.
There is only 1 grand winner on the lucky draw round, cash prize worth RM10k. We no luck for it. Another prize round was about guessing the item price. The one who got the nearer price guessed to the actual item price will win back the item. In between, there are short speech by Paypal's management and Merchant Award presentation ceremony. Trophies were presented to those top sales online seller and longest community members with Paypal.
Overall it is a good party. I like it whereby no loud music background and guests are comfortable as in overall. We got no time to sit down and relax as everyone busy queue up to finish the games and it is almost comes to the end of the party when all program finish.
Before we left, we each got a big box of door prize consists of a collar T and a zip case.
It was unexpectedly nice and I was so surprise when I open up the case and found a very nice set of USB gadgets. There is a 4 ports slim hub, mouse, AV earphone, device cable and network connector.
We truly enjoy the event, indeed it is fruitful night without paying a single cent. Well done to Paypal! Hopefully you are here again next year to celebrate another great time round at a bigger venue to accommodate more members. Besides that, may be can host some related e-business talk and workshop to equip us with more knowledge and benefit of being an online merchant.